At this year's CES, Sony unleashed a personal Internet viewer
called the Dash
to the world. But I recently came across the HP DreamScreen, which looks and acts similarly to the Dash's portable model and thought they were essentially the same product. I started asking myself: what's the difference? While there's a lot these two have in common, they are drastically different.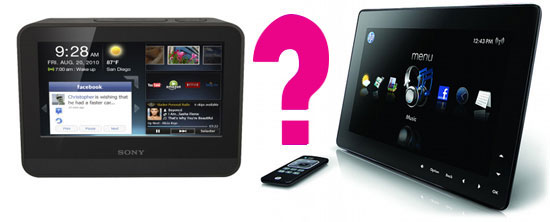 Find out more about both the HP DreamScreen and the Sony Dash when you read more.
Although these two gadgets may look the same on the outside, they perform different functions. Where one provides easy-to-use apps to bring you information, the other works in conjunction with your home PC to get all that media goodness to a portable screen.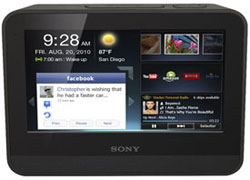 The
Sony Dash
($200) was made to be your personal and portable home tablet, which provides apps where you can find information. There are 1,500 apps for you to choose from — from Facebook and Twitter to recipes, music, and news — allowing you to access them from your bedroom, your kitchen, or your couch. The Dash sports a 7" WVGA touchscreen, WiFi compatibility, and supports MPG, MPG4, and AAC files for your listening and viewing pleasure.
The
HP DreamScreen
($250) acts as an extension of your home PC. You don't have to be chained to your desktop to check out photos, watch videos, or get news and weather updates, since the DreamScreen syncs up with your home computer over your wireless network, so you can browse from anywhere in your home. The DreamScreen comes with either a 10.1" or 13.3" widescreen, 2 USB ports, and 2GB of on-board memory along with dual stereo speakers.